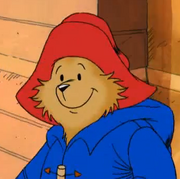 Paddington Brown
is the title character of the Paddington Bear book, film and TV series.
Paddington comes from "Deepest Darkest Peru", with his only known relative being his Aunt Lucy (whom he sends letters to), not including his Uncle Pastuzo, who gave him his old stained bucket hat. He was found in a train station in London and the Browns adopted him, thus giving him the full name "Paddington Brown." His name, "Paddington", comes from the train station in London, where the Browns had found him.
In Paddington, he was a stowaway and hid in a post van until he arrived at Paddington Station and was found by the Browns, and was given cake and tea. He went home with them and had trouble with the facilities. The next morning, he went to Mr. Gruber's and stopped a pickpocketer. He found a movie in the Geographers Guild. He was blamed by the Brown family for a house fire that was caused by what Paddington says was an elephant. He tried to find the explorer, Montgomery Clyde, but found his daughter Millicent (Natural History Museum director), who tried to stuff him, but Paddington was saved and adopted by the Browns.
Paddington 2 (2017)
In Paddington 2 (2017) Paddington, The Browns and Mr Gruber go to Lima Peru where Aunt Lucy lives, but Millicent Clyde is chasing the Browns and Mr Gruber down!
Appearance
Edit
Paddington is a small spectacled bear that wears a bright red hat and a blue duffel coat.
Ad blocker interference detected!
Wikia is a free-to-use site that makes money from advertising. We have a modified experience for viewers using ad blockers

Wikia is not accessible if you've made further modifications. Remove the custom ad blocker rule(s) and the page will load as expected.