WELCOME TO THE PADDINGTON BEAR WIKI
Help
•
Terms of Use
•
Wanted Pages
•
Categories
This wiki is about all things Paddington Brown, and anyone can edit! Not sure where to start? Pick a page at random! Can't find what you're looking for? Make a new page!
While reading this wiki you will learn about the handful of adventures Paddington has. He meets many different people along the way. Paddington also has a Movie made by Warner Bros, and had a google doodle dedicated to the anniversary of the franchise.
THE CHARACTERS
FEATURED MEDIA
DISCUSSIONS
Featured Article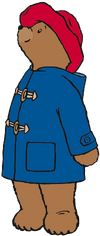 Paddington Bear is from Darkest, Peru. His Aunt Lucy made him stow-away on a ship heading for England. He also enjoys Marmalade Sandwhiches, and almost always has one of them under his hat.
TWITTER
NEWS
Loading RSS data...
Ad blocker interference detected!
Wikia is a free-to-use site that makes money from advertising. We have a modified experience for viewers using ad blockers

Wikia is not accessible if you've made further modifications. Remove the custom ad blocker rule(s) and the page will load as expected.