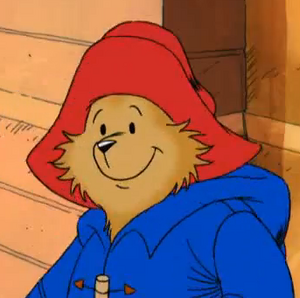 Paddington Bear was first a book series made by Micheal Bond in 1959. It later expanded, with a television showed aired by Cookie Jar. If you're new to Paddington Bear, you can learn about him and his adventures here. He is from Darkest, Peru his Aunt Lucy made him stow-away on a ship heading for England. He also enjoys Marmalade Sandwhiches, and almost always has one of them under his hat. The book series is still popular itself. The books has been translated into 30 languages, and more than 30 million copies have been sold worldwide. Thousands of products have been made in the United Kingdom, Europe, United States, Southeast Asia, Southa Africa, Japan, and Australia.

While reading this wiki you will learn about the handful of adventures Paddington has. He meets many different people along the way. Paddington also has a Movie made by Warner Bros, and had a google doodle dedicated to the anniversary of the franchise.
Ad blocker interference detected!
Wikia is a free-to-use site that makes money from advertising. We have a modified experience for viewers using ad blockers

Wikia is not accessible if you've made further modifications. Remove the custom ad blocker rule(s) and the page will load as expected.