Mr. Reginald Curry is the mean spirited next door neighbour to the Brown family. He constantly refers Paddington as Bear. He is voiced by Michael Hordern in the 1975 series, Tim Curry in the 1989 series and in The Adventures of Paddington Bear he is voiced by Nigel Lambert and in the live action film he is portrayed by Peter Capaldi. In the film Paddington, Mr. Curry had a former crush on Millicent.
Paddington 2 (2017)
Edit
In Paddington 2 (2017) Mr Curry will be played by Peter Capaldi.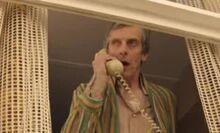 Ad blocker interference detected!
Wikia is a free-to-use site that makes money from advertising. We have a modified experience for viewers using ad blockers

Wikia is not accessible if you've made further modifications. Remove the custom ad blocker rule(s) and the page will load as expected.