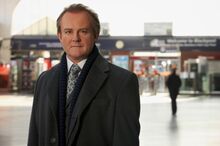 .
Mr. Henry Brown
was the husband of
Mrs. Mary Brown
, the father of
Judy Brown
and
Johnathan Brown
, and the foster father to
Paddington
. At first, Mr. Brown was reluctant to take care of Paddington. He has often complained about Paddington's prescence in the Browns' home, causing Paddington to leave. When he and the rest of his family had figured out that Paddington was in trouble, he helped save Paddington. Towards the end of the movie, he had finally shown fatherly love towards Paddington.
Death
While confronting Millicent Clyde with Mrs. Brown, Judy and Jonathan Brown and Paddington, Mr. Brown went ahead to Millicent and suggested that if she wants Paddington, she will have to take all of them, after replying to Mr. Brown,Mr. Brown wasn't standing with the Browns and Paddington. Millicent shot Mr. Brown. In his final moments, Mr. Brown, originally, became evil, but, he became unconscious, also. Suddenly, Mr. Brown fell down the bridge. While falling down the bridge, Mr. Brown hit stones, rocks and cliffs, becoming injured. Now, he was becoming, both, injured and unconscious. But, unfortunately, before he could become unconscious, he was, badly, injured. He looked at his injuries and his impaled stomach, continued falling and died. Even after his death, Mr. Brown's body kept falling until it was hit at the ground, which was beside the entrance to the Natural History Museum.
Ad blocker interference detected!
Wikia is a free-to-use site that makes money from advertising. We have a modified experience for viewers using ad blockers

Wikia is not accessible if you've made further modifications. Remove the custom ad blocker rule(s) and the page will load as expected.