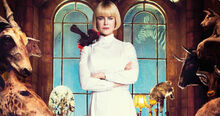 Millicent Clyde
is the main antagonist of the 2014 Film
Paddington.
She is a taxidermist who wishes to stuff
Paddington
, as her father failed to collect an animal specimen. Later in the movie, Millicent got a job at the old petting zoo.
Paddington 2 (2017)
Edit
In Paddington 2 (2017) She will abandon her petting zoo and seek revenge on The Browns!
She is played by Nicole Kidman.
Mr. Curry had a former crush on Millicent.
Ad blocker interference detected!
Wikia is a free-to-use site that makes money from advertising. We have a modified experience for viewers using ad blockers

Wikia is not accessible if you've made further modifications. Remove the custom ad blocker rule(s) and the page will load as expected.